Learn how to do mouth-to-mouth on Infants, Children and Adults, fibrillation and utilization of an Automated External Defibrillator, additionally, learn how to provide First-Aid and about Bloodborne Pathogens and Viruses.
After passing this Certification Course Exam and making a purchase you'll get your Certificate and Temporary Wallet Card Instantly. You will likewise get a FREE Hard-Copy Wallet Card within 2-5 business days! Only make a purchase if you're absolutely satisfied with our service. No Hidden Fees!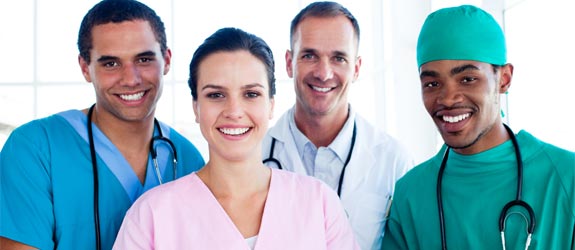 | Basic Life Support (BLS) | Modules | Training | Validity | Certification | Duration | AHA & ECC | Exam Attempts | Vinyl Wallet Card | Cert. & Card Download |
| --- | --- | --- | --- | --- | --- | --- | --- | --- | --- |
| Overview | 15 | FREE | 2 Years | $19.95 | 30 Mins | Compliant | Unlimited | FREE | YES |
Easy to understand
Enjoy a state-of-the-art user interface that is clearly arranged, simple, touch-friendly, and quick to operate.
Multi-platform
Our Curriculum can be accessed across multiple platforms from PC's and Mobile to Tablets.
Shipped daily
Don't wait weeks to receive your order! When you purchase, we ship - with our rush delivery technology.
Below is an overview of the Basic Life Support (BLS) Certification Course. The BLC certification covers a lot of ground, teaching you what to do in a wide range of common medical situations, whether you're working alone as a first-responder, or as part of a team. The training on this course is most applicable to people working in the emergency services or as part of rescue teams.
What is Basic Life Support (BLS)?
When people suffer serious life-threatening conditions as a result of accidents or medical disorders, they typically require urgent specialist care at a hospital or other treatment facility. Where it is not possible to resolve the patient's condition on-location, the goal of BLS is to deploy a range of techniques to keep the patient alive until they can access the treatment they need. Sometimes different techniques must be used depending on the age or other demographic of the patient - the BLS course will walk you through this and everything else you need to know.
What is the BLS certification?
The BLS certification is proof and recognition that you have completed the 13-module BLS course. This course is designed to be as effective as an in-person training course and meets the recommendations of the OHSA and the AHA.
You can complete the 13 modules of the course from the comfort of your own home, at whatever speed you feel comfortable with. You could do one module per day for 13 days, or do them all in one day if you preferred. At the end of the module you will complete a 10-question test of your knowledge. If you pass the test, you can then opt to receive a certification which you can print out to prove you have passed the course.
How much does the BLS certification cost?
As well as being easy to access and enabling you to work at your own pace, online courses are generally much cheaper than in-person courses because they have lower overheads. If you work your way through the course and pass the test at the end, you can receive the BLS certification for a single fee of under $20. You can then print out the certification as proof that you have completed the course. You will also receive a wallet card that you can keep on your person.
What does the BLS certification course cover?
The BLS certification course starts with a general overview of BLS, what it is, and what it entails. It goes on to explain the legal protections that are afforded to people who attempt to use life-saving techniques on people who need them. For example, the Good Samaritan Law protects individuals from legal consequences when then attempt to use CPR or Automated External Defibrillator (AED) to save a life without expecting any form of payment.
What are the modules in the BLS certification course?
The BLS course covers 13 different modules in-depth, which include:
CPR
You will learn when and how to conduct CPR on people of all ages, from infants to adults. You will be taught how long you should continue to use CPR and when you should stop. This module also teaches you how CPR should be combined with AED.
The course then delves a little deeper than standard CPR courses, covering things like how to work as part of a team to effectively conduct resuscitation efforts, and how this is different from attempting CPR when you're on your own. You'll learn variations to chest compression techniques that you should employ depending on the patient, for example, if they are pregnant or obese. The course covers additional considerations when delivering CPR, such as how to check the airway for instructions and clear them if necessary, how to improve blood circulation, and how to perform mouth-to-mouth resuscitation
AED usage
The next module covers AED usage, including when the device should be used and how to use it. You will learn the medical conditions for which AED usage has the most favorable outcomes, for example, ventricular tachycardia, where the patient's heart rate is particularly high. You will also learn about ventricular fibrillation, a serious condition in which the heart is unable to pump blood around the body, and in which it is of crucial importance to obtain medical intervention as quickly as possible.
This module also provides information on further considerations you need to take into account with AED use, for example, in cases where the patients has nearly drowned, undergone trauma, or suffered an electric shock.
First aid training
The next module in the course covers first aid training. With this knowledge, you will have the confidence to help people who have suffered a wide range of injuries, from minor cuts and burns all the way up to lacerations and bone fractures. These skills are applicable in various situations, including accidents that happen as part of daily life, automobile incidents, and natural disaster scenarios.
Wound care
This module teaches you how to diagnose, treat and dress wounds of different sizes and types. There are considerations relevant to all wounds, such as cleaning wounds in order to prevent infection, but there are also important considerations that you need to keep in mind depending on the location and severity of the wound. The module covers methods of treating minor cuts, amputations and puncture wounds, among other types.
The heart
The course will then teach you the fundamental principles of how the heart functions. This module has both a practical and theoretical aspect to it. On the practical side, you will learn about treatments for some heart problems, such as heart attacks, chest pain, or cardiac arrest. On the theoretical side, you will learn about the structure and function of the human heart.
Fractures
The fractures module teaches you the approaches and considerations for treating bone injuries, ranging from bruises to fractures, and also covering dental injuries. You will also learn the difference in treatment approaches that you should take depending on the severity of the injury.
Burns
The next module covers burns in detail. You will learn how to identify the primary types of burns, such as first degree, second degree and third degree burns, and how to treat each type until the patient is delivered to a hospital or other facility.
Poisoning
The poisoning module covers a large amount of material relating to the intake of toxic or otherwise harmful chemicals, materials or substances. You will learn what action you need to take in cases of drug overdoses, accidental ingestion of chemicals, and bites or stings by venomous creatures. The module also covers allergic reactions such as anaphylaxis.
Hemorrhages and hypoglycemia
In this module, you'll learn about the four classifications of hemorrhage, and how you should identify and treat them. The module also covers hypoglycemia, or low blood glucose levels, most commonly seen in people suffering from diabetes, and how to deal with it.
Choking
The choking module explains how to dislodge objects blocking people's airways, including a video demonstration of the Heimlich manoeuvre, which is generally not used on younger children. You will learn the additional steps and procedures to undertake if the patient is unconscious, and covers some fundamental information relating to hypothermia and dehydration.
Injuries
This module goes over a wide range of injuries and how best to deal with them, such as head injuries and concussions, injuries to the spine, and injuries to the eye. The module also provides training on eye injuries caused by chemicals.
Shocks, seizures, and strokes
These three conditions all have specific signs that you should be aware of in order to ensure the best chance of early identification and intervention. You'll also, of course, learn the best practices for treating people undergoing shocks, seizures and strokes of varying types.
Pathogens
The pathogens module in the course is all about blood-borne pathogens, such as HIV and hepatitis, among others. The module will teach you how these diseases are transmitted, and precautions you can take to prevent their transmission.
These modules represent a comprehensive coverage of BLS that will help healthcare professionals in their work. You can approach the course however you see fit, going through modules in any order and going back over any material as needed. You are encouraged to complete all modules, however, so you are prepared for more situations and for patients with multiple injuries or conditions.
Regardless of the situation you face, in an emergency your primary goals are to employ basic first responder techniques, call 911, and continue the appropriate BLS techniques until help arrives.
What is the BLS certification test?
After completing the 13 module course, you will then complete a 10 question multiple-choice exam. In order to pass, you must get seven of these questions right, but if you fail you can review the course material and retake the exam as many times as you need to. Once you've completed the test, you can choose to pay for the certification if you wish.
What is BLS recertification?
In order to ensure your BLS skills are up to date and fresh in your mind, certifications expire after two years. It is, therefore, recommended that you retake the exam and obtain a new certification periodically. If you have already completed the course once, you have the option to save time and skip straight to the exam, but, if you wish, you can work through the course materials again - it's up to you.
BLS certification validity
If you complete the course and obtain the certification, you can print your certificate for your records or to display in your workplace. You will also receive a vinyl wallet card by post within five business days.
The BLS course requires no payment unless you want the certification at the end of the course, so there is no obligation for you. Have a look through the course material, try out a few modules, and see that it meets your needs.