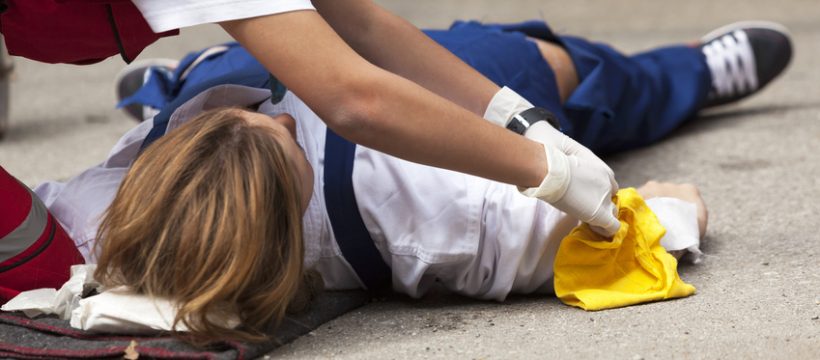 Why It Is So Important to Be First Aid & CPR Certified?
While many people do not realize it, one of the most important steps that they can take in their life is to receive an online CPR and First-Aid certification. This is true no matter what career path they wish to take or how old they are. There are many varied reasons that it is important to get CPR and first aid certified. Get to know a few of these reasons so that you can be sure you make certification a priority in your life.
Getting First Aid Certified Can Save Lives
Of course, the main reason that it is important to get CPR and first aid certified is that doing so may help you save lives. If you know how to react when you come across a person that is not breathing or that has a severe injury, your fast actions can keep them alive long enough for medical professionals to arrive on-scene.
It Looks Great on a Job Application
In addition to being a potential lifesaver, certification in first aid and CPR will also be beneficial to you when you are filling out job applications. Employers like to hire people that have taken the initiative to get certified for many reasons including the fact that such training shows a genuine concern for the health and well-being of others.
You Will Be a Better Parent
Parenthood is challenging and children get hurt no matter how vigilant you are as a parent. However, how you handle those injuries or incidents can be vastly improved by getting CPR and first aid training. You will be able to assess the situation and injury quickly and effectively as well as help your child if they are choking. Essentially, you will be better able to protect your children's health.
With these factors in mind, you can see why it is so important to be certified in CPR and first aid as soon as possible.
Finding the Right First Aid Course for You
If you have come to a point in your life when you feel that it is time to learn first aid, it is important that you find the right first aid course to suit your needs. However, if you have never taken a first aid or CPR course before, it can be difficult to determine which option is ideal. Get to know some of the factors to consider when signing up for your course and training so that you can be sure those needs are met.
Certified vs. Uncertified First Aid Course
There are many several types of first aid courses offered through various institutions as well as private companies. Some of these programs are certified and offer official certification to participants that complete the course requirements. Others are not and do not have the backing of any official medical organization. If you are not sure whether a course is official, contact the program and find out before signing up or paying for the course.
Online vs. In-Person Courses
Another factor to consider when choosing a CPR or first aid course for yourself, is whether you want to go to a live, in-person class with an instructor and other participants, or if you want to learn CPR and first aid online in an internet-based course. Online programs are convenient and can be taken when you have the free time to complete the coursework. If you are a hands-on learned, online first aid courses will likely not work to your benefit as you will not have the opportunity to practice any techniques as you would in-person.
With these factors in mind, you can be sure that the first aid course that you sign up and pay for is the right course for you and your learning needs.
Planning on Going on a Deep Woods Hike? First Aid Training to Get First
When you are planning on going on a journey into the wilderness and to test your skills on a deep woods hike, there are many factors that you can and should consider. Before you go, you need to get yourself certain first aid training that will help you to ensure that you are as safe as possible on your trip into the wilds. Find out the first aid training that you will need to get before your trip.
Start with Basic First Aid Training
First and foremost, before you head on a deep woods adventure, you should be sure that you complete basic first aid training courses. These courses will give you baseline knowledge in dealing with illnesses and injuries that can occur in any given scenario.
Basic first aid also encompasses CPR which can be important if you are in high altitudes as breathing may be difficult for some people. You will learn how to properly dress wounds and take proper first aid precautions.
Take a Wilderness First Aid Course
Once you understand the basics of first aid, it is also important to learn more about the specific situations that can occur in the wilderness when you are far away from society and medical personnel. This teaches you the specifics of managing wound care in the wilderness, dealing with altitude sickness, assessing head and spinal injuries in the wilderness and the like.
Other issues that are covered can include heat and cold-related injuries and illnesses, lightning strikes, anaphylaxis, shock, and emergency and evacuation procedures. These courses can also help you to prepare an extended wilderness first aid kit to take on your trip.
These first aid training will help to ensure that you are prepared for anything that could occur while you are on your deep woods hiking adventure and that you are able to deal with injuries and illnesses that may occur on the trail.
What You Will Need to Know about Basic First Aid to Get Ready for Certification
Basic first aid refers to the steps you'll need to know to assist someone in physical distress. It's the initial process of helping someone who may be experiencing difficulties due to choking, having an allergic reaction, suffering a heart attack, or dealing with another medical emergency. If you're getting ready to acquire basic life support (BLS) certification, here's a summary of what's involved with basic first aid.
Checking Surroundings
Having a keen eye for observation is important when providing first aid in situations where the victim is unable to help themselves. If the victim is in harm's way, they should be safely moved when possible. Never put yourself in danger while aiding.
Calling for Assistance
If you're not a medical professional yourself, the second step in providing first aid is to call for help. The patient be observed always until further assistance can be provided.
Caring for the Person While Providing Basic First Aid
Steps should be taken to make the person as comfortable as possible until additional assistance can arrive. The training you will receive will allow you to determine how to do this safely without risk to the patient. For instance, someone with a possible back injury should never be moved. Offering reassurances will allow the patient to realize that help is on the way.
Some forms of basic first aid can be as simply as knowing how to apply pressure to a wound to stop the bleeding or mobilizing a leg or arm to prevent further damage. The purpose of basic first aid is to be able to quickly assess someone's medical condition. Having knowledge of first aid also means you'll be able to provide any immediate assistance that may be necessary to stabilize the situation.
Two Important Questions About Online CPR and First-Aid Certification
Everyone can learn about cardiopulmonary resuscitation by taking an online CPR or First-Aid certification course. Read the two frequently asked questions below to learn valuable information about getting CPR certified online.
What Will Individuals Learn When Enrolling in Online CPR Cert?
When individuals enroll in online CPR certification they will find out how important it is to learn this technique for saving lives. The basis for CPR is to maintain the blood flow in the body until medical professionals can begin treatment. Individuals can take online CPR courses for adults and children. When taking an adult CPR course, students will learn the proper method of administering chest compressions and they will also learn about using an automatic external defibrillator, which is used to shock the patient. Individuals who wish to learn about CPR for children, from one to eight years old, can take a separate course to learn about the proper CPR techniques for infants and young children.
What Can Individuals Expect When Taking Online CPR Certification?
Each lesson is set up individually and after finishing a lesson, an individual can advance to the next lesson until the entire course is completed. If an individual has to stop in the middle of a lesson, they can pick up where they left off when they have time to continue. Individuals can take the lessons on almost any device including a personal computer, laptop, tablet or smartphone. Individuals can take their time and work at their own speed when taking online CPR cert.
Individuals who want to learn how to save lives can take advantage of online CPR and First-Aid certification lessons. This technique is something everyone should know and online courses make it easy for everyone to learn.
Summary
Getting first aid certified is an important task to complete for many reasons and it is important to know some of those reasons so that you can get certified. Taking a first aid course can be an important and rewarding experience but only if you know how to choose the course that suits your learning needs and style. Going on a hiking trip in the deep woods is an exciting endeavor, but only one you should take if you have the right first aid training before you go.
Save lives by taking an online CPR cert course and learn how to properly administer chest compressions to adults and children who are in danger. Learn information about an online CPR cert course and how to perform this procedure on adults and children who have stopped breathing.
Sources
NOLS – Wilderness First Aid
National CPR Foundation – Courses
Healthline – Symptoms of a Heart Attack
WebMD –  What You Can Do to Prevent a Heart Attack

You May Also Like