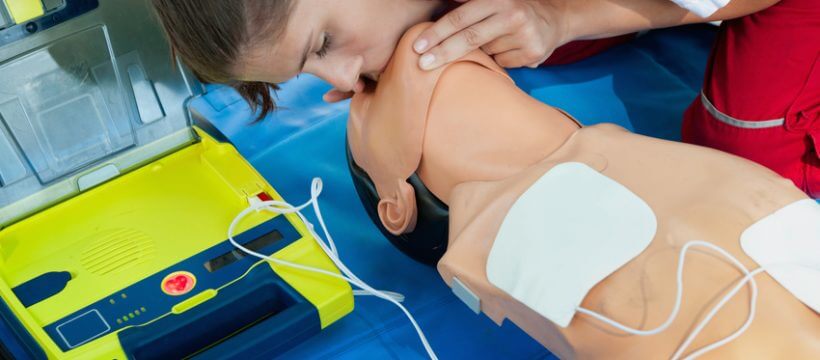 Should Your Small Business Own a Defibrillator?
Is your workplace prepared to assist the victim of a heart attack? Heart attacks are one of the leading causes of death in the U.S., claiming more than 250,000 lives each year. And whether your workplace is open to the public or just has a handful of employees, odds are that sooner or later you may be there when someone is suffering from heart trouble. An Automated External Defibrillator (AED) can be the difference between life and death; train for free through these online CPR certification courses. or directly through National CPR Foundation and American Heart Association.
Why owning a defibrillator
Why have a defibrillator? If someone has a heart attack at your business, it can take emergency responders several minutes to reach them and give medical assistance, which may involve use of a defibrillator. For every minute that the defibrillator is not used, a heart attack victim's chances of surviving are reduced by as much as 10 percent. So having a portable and easy-to-use defibrillator on site can dramatically increase the chances that a person who goes into cardiac arrest will live.
How to use the defibrillator
How is a defibrillator used? The AED is designed to be easy to use and most kits that include a guide on how to safely administer the shocks. The person with the device places sensing pads on the chest of the person having the heart attack. The pads determine the heart's rhythm and administer a mild electric shock if needed. This shock can get the cardiac muscle back into its proper rhythm.
What types of businesses should have a defibrillator on the premises? Basically, any business with more than one employee on site can benefit from the device. If a customer, client or employee suffers from cardiac arrest, the AED can be used to administer an electric shock to the heart, which should help return it to a normal rhythm.
However, be aware of the requirements in your state for training and utilization of an AED. Some states require that you have someone on site who has been trained by a medical professional. There may also be requirements for how often the unit needs to be checked by a professional.
Resources:
Learn About Automated External Defibrillators
http://www.redcross.org/prepare/location/workplace/easy-as-aed
National Center for Early Defibrillation
http://www.early-defib.org
AED Laws by State
https://www.aeduniverse.com/AED_Laws_by_State_s/97.htm