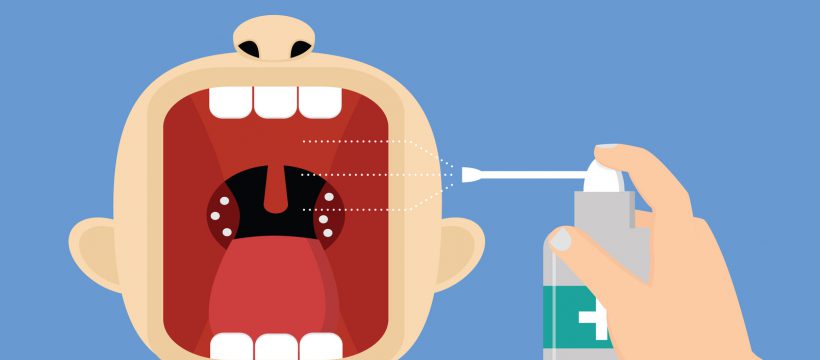 Learn Home Remedies for a Sore Throat
Here's a list of sore throat remedies that are proven to work!
Gargle with warm salt water to help reduce swelling and relieve discomfort:
Gargle at least once each hour with1 tsp (5 g) of salt dissolved in 8 fl oz (240 mL) of warm water.

Several studies have found that gargling several times a day with warm salt water can reduce swelling in the throat and loosen mucus, helping to flush out irritants or bacteria.

If you have postnasal drip, gargle often to prevent more throat irritation.
Prevent dehydration. Fluids may help thin secretions and soothe an irritated throat. Hot fluids, such as tea or soup, may help decrease throat irritation.
"Staying hydrated is very important, especially when you're sick and your throat is irritated or inflamed," Dr. Linder says. "You should be drinking enough fluid so that your urine is light yellow or clear. This keeps your mucous membranes moist and better able to combat bacteria and irritants like allergens, and makes your body better able to fight back against other cold symptoms."
What you drink is up to you, Linder adds. Water always works (ice cubes, too!), but you can also change it up with something slightly sugary, like a watered-down fruit juice, or something salty, like chicken broth.

Tea

Tired of drinking water? A warm cup of herbal tea can offer immediate, soothing relief for a sore throat. What's more, non-herbal teas—whether they're made with black, green, or white leaves—contain antioxidants that are thought to strengthen immunity and ward off infection.
For an extra boost, add a teaspoon of honey. It'll help the "medicine" go down, and it has antibacterial properties that may help you heal faster.
Warm or cool mist may help you feel more comfortable by soothing the swollen air passages. It may also relieve hoarseness. But don't let your room become uncomfortably cold or very damp.
Use a shallow pan of water to provide moisture in the air through evaporation if you don't have a humidifier. Place the pan in a safe location where no one will trip on it or fall into it.
Use nonprescription throat lozenges.
Some nonprescription throat lozenges, such as Sucrets Maximum Strength or Spec-T, are safe and effective and have medicine (local anesthetic) that numbs the throat to soothe the pain.
Regular cough drops may also help.
Sucking on cough drops stimulates saliva production, which can help keep your throat moist. But many varieties are no more effective than hard candies, Dr. Linder says. For an added benefit, choose brands with a cooling or numbing ingredient, like menthol or eucalyptus.

Over-the-counter sprays like Chloraseptic produce an effect similar to cooling lozenges. They won't cure your sore throat or help you fight off the underlying cold, but they may help dull the pain temporarily. Chloraseptic's active ingredient, phenol, is a local antiseptic that also has antibacterial properties, Dr. Linder says.
Decongestants make breathing easier by shrinking swollen mucous membranes in the nose, allowing air to pass through. They also help relieve a runny nose and postnasal drip, which can cause a sore throat.
Decongestants can be taken orally or used as decongestant nasal sprays. Oral decongestants (pills) are probably more effective and provide longer relief but may cause more side effects.
These medicines may not be safe for young children or for people who have certain health problems. Before you use them, check the label. If you do use these medicines, always follow the directions about how much to use based on age and in some cases weight.
Cough syrup
Even if you don't have a cough (yet), over-the-counter cough syrups can help ease soreness. Like drops and sprays, they coat the throat and provide temporary pain relief.
If you're headed to work, be sure to choose a non-drowsy formula. But if you're having trouble sleeping due to a sore throat, a nighttime formula like NyQuil (which contains a pain reliever and an antihistamine) or Robitussin AC (guaifenesin and codeine) can relieve pain and help you get some shuteye.
Chicken Noodle Soup
An age-old home remedy for colds, chicken soup can help soothe a sore throat, as well. "The sodium in the broth may actually have anti-inflammatory properties, and it can feel good going down," Dr. Linder says.
Soup has an added benefit when you're sick: Eating can be painful and difficult with a swollen or very sore throat, so sipping some liquid nourishment will ensure that you're getting the nutrients you need to fight off your infection.