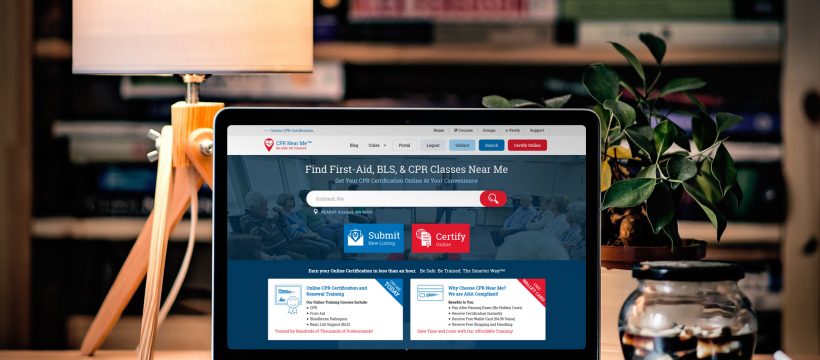 Benefits of CPR certification
CPR certification is an incredibly valuable tool.
Firstly, it may save someone's life. 88% of cardiac arrests occur at home, and 68% of cardiac arrest victims receive no help. Every minute is crucial, and waiting for an ambulance to arrive could mean the difference between life and death. Around 300,000 people experience cardiac arrest in the United States each year. Only 32% of victims of cardiac arrest receive help from a bystander before medical professionals arrive. This number is likely to increase as large numbers of Baby Boomers advance in age.
Receiving CPR immediately from someone who is trained and certified is a necessary intervention in those crucial minutes between the cardiac event and the arrival of medical professionals. Not only could it be the immediate difference between life and death, studies have shown that the sooner chest compressions are started after cardiac arrest, the better one's long-term prognosis.
CPR is valuable not only for medical professionals. It is also valuable for people in many other professions. Wilderness leaders, HAZMAT crews, scuba divers, sailors, tour guides, and many other professions may require CPR training. Indeed, CPR training is beneficial in any circumstance in which you may interact with other people, whether it be for your job or your social life. While there are some professions, such as those listed above, which do have a higher likelihood of physical risk, the truth is that cardiac events are extremely common and can happen to anyone, anywhere. Being a prepared bystander is part of being a good citizen.
With CPR training, you are not only able to help others that may be in need of an immediate response, but you are also likely to recognize symptoms of cardiac arrest in yourself. As minutes are crucial after the heart stops, if you are able to alert others or call for emergency services sooner rather than later, you could save your own life as well.
Furthermore, with generalized safety and first aid training, you are more likely to be aware of dangerous situations and avoid them. You will know what is in a first aid kit and be able to use the necessary tools in an emergency while you wait for emergency services. You will understand best practices regarding safety, which will help you avoid dangerous situations.
CPR classes in the workplace are beneficial because they can improve employee morale, provide a team building experience, and lessen safety concerns. Some jobs may require CPR or other safety training due to the nature of the job, but again, cardiac events can happen to anyone at any time, so being prepared is always important.
CPR Training Programs
CPR training programs are available in several versions. The most basic version includes training in how to perform CPR on adults, children, and infants. While the idea of CPR is simple – pressing on a person's chest in order to keep blood flowing – it is actually a specialized technique that requires careful study. There are many elements of CPR and they must be performed exactly right to be effective. Chest compressions must be done with a certain amount of force and at a certain speed, so practicing and becoming certified is essential.
CPR must be modified when it is performed on a child or an infant. Because their bodies are smaller and more prone to injury, adult CPR can be harmful if it is not modified. In CPR training program, you'll learn about the differences in CPR for children and infants and practice each kind of CPR.
Students also learn how to use an Automated External Defibrillator (AED), which provides electric shocks to a person suffering from cardiac arrest. In conjunction with CPR, this can be a lifesaving intervention in between a cardiac event and the arrival of medical personnel.
In a CPR training program, you'll also learn when to intervene in situations and how to distinguish emergency situations. Students will learn what kinds of questions to ask in order to understand the situation. You will also learn about the laws that govern bystander's emergency medical assistance. The Good Samaritan Law provides protection against lawsuits for trained bystanders who intervene in the best interest of a victim.
In addition to CPR training, you can also find first aid certifications through CPR Near Me. These teach you how to handle all manner of injuries, such as burns, fractures, cuts, and more. You'll learn about the ins and outs of a first aid kit and how to create one yourself. A certification in handling Bloodborne Pathogens will help you understand how to safely act around blood and other potentially infectious materials in accordance with Occupational Safety and Health Administration (OSHA) safety guidelines.
CPR training programs provide the most up-to-date information about CPR. As doctors and scientists come to better understandings about what techniques provide the best success rates, CPR techniques occasionally change. Ensure that your certification is up to date by taking a course through an organization approved by the American Heart Association (AHA).
Online CPR Training Certification
More than 350,000 people die each year as a result of cardiac arrest, and because they did not receive CPR or appropriate first aid in an emergency. CPR is a lifesaving skill that can be learned by most of the population. However, many people do not learn CPR or Basic Life Support (BLS) skills because they think they will not need them, that they can just call an ambulance in the case of emergency, or because they don't think they have time to take a class.
We are changing this with our online CPR certifications. In today's world, your schedule is likely jam-packed. With work, a social life, maybe even children, it can be very hard to find a four-hour block of time where it's easy to get away. Yet CPR training is so vital, it's important that as many people as possible get certified.
In addition to CPR, you can also become certified in BLS and the use of an AED which can be essential in saving a life. A certification course in Bloodborne Pathogens will teach you best practices and safe handling of blood. Also offered is a CPR/AED certification course specially designed for healthcare workers.
Each of these courses is compliant with the most recent regulations and best practices laid out by OSHA. These courses are in line with Emergency Cardiovascular Care/International Liaison Committee on Resuscitation (ICC/ILCOR) guidelines.
Online CPR/AED, BLS, and Bloodborne Pathogens certifications are endorsed by AHA trained providers. The coursework in an online certification is compliant with the most recent AHA curriculum.
Our online first aid certifications are available for only a nominal cost, and you never need to pay for the training. You only pay after successfully passing your certification exam. If you are unsatisfied with your results, there is no reason to fork over your hard-earned money; simply take the course and certification exam again. Other online training providers add additional fees and may require payment before successfully passing the certification exam.
After successfully passing your certification exam, you'll be able to print a copy of your CPR, BLS, or Bloodborne Pathogens certification immediately. You'll also be able to print a wallet card to carry with you in case of emergencies. Then, within two to five business days, you'll receive a hard copy of your certification and wallet card in the mail.
(Healthcare professionals who are required to take the CPR and BLS Certifications for Healthcare Providers will be required to complete the demonstration portion of a certified BLS instructor, although the training and certification exams can be completed online).
Online CPR/AED and BLS certifications achieved through CPR Near Me are valid for two years. They can be easily renewed online as well. You can even renew a certification that you acquired at an in-person class through CPRNearMe.com.
How CPR Near Me Can Help
Finding CPR classes online by using CPR Near Me is very easy. You can use the large search field where you can enter your city  and/or zip code. The results lists all of the CPR providers near you.
On the left side of the results page are the various CPR training providers near the searched city and/or zip code. On the right side is a map. Each pin on the map corresponds to a listing. This allows you to find the CPR training provider that is nearest or most convenient.
After a user identifies a CPR training provider that looks promising you can click on the name to be taken to that training provider's website.
Listed for each training provider on their individual page is the information necessary to get in contact with them. The address, phone number, and a link to the training provider's website are listed near the top. There is also a link to request driving directions directly from the site, or you can "Request Information." Requesting information through this form will generate a message to be sent to verified training providers. Also available on each individual listing are descriptions of the particular training courses and services available as well as the training provider's hours.
We use user-submitted data in order to provide the most complete map of CPR listings near you. These listings fall into one of two categories: verified listings and unverified listings.
Verified listings are listings that have been "claimed" by the business owner. The business owner can edit the information submitted by users and post to a blog that will be tied to their listing on CPR Near Me.
Verified listings are maintained by the business owner, so the information is more likely to be accurate and up to date. If you have information about a listing that is unverified, even if you are not the business, owner, there is a link on each unverified listing which allows you to "Report Listing" or "Improve Listing." Helping CPR Near Me crowdsource information allows the website to provide the most up-to-date listings.
It is very easy to find locations to take CPR and other first aid classes near you with the tools provided by CPR Near Me. We also offer a ratings and comments system so that you can help others find the best training providers near them.