C is for Circulation – Compressions
Chest Compressions
- Circulate the blood within the patient. It's important to place your hands correctly upon the patient's chest when performing compressions.
To do so, find the point where the patient's ribs meet (just below both halves) and interlock your fingers with both hands. Make sure you're kneeling beside the patient's shoulders (Do Not Lean on Patient). Once in position, lock your elbows and use your body's weight to compress 2 inches upon the patient's chest. Make sure to let the patient's chest rise after each compression. Compressions on an infant are pressed just below the nipples.
Infant CPR - 2 Rescuers: One Rescuer should use two hands holding the infant facing up while positioning the fingers in the middle of the infant's chest as the other rescuer uses a one-way valve—placing it over the infant's mouth and nose. One rescuer will perform compressions while the other uses the rescue valve. You can also apply a ratio of 15:2 compressions to breathing.
Chest Compression Tempo: perform CPR while matching the tempo of the song, "Staying Alive" while making sure to push hard and fast.
Chest Compression Fraction:is the total percentage of resuscitation time when performed by the rescuer(s) during cardiac arrest. Whether intended or unintended interruptions (such as real-world delays) occur Chest Compression Fraction aims to minimize pauses in chest compressions. Chest Compression Fraction Goal: target of at least 60%.
Remember, until help arrives, administer CPR. Perform 100-120 compressions per minute.
A is for Airway. Clear the Airway
Check for any obstructions, such as tongue, foreign objects, vomit, swelling or food blocking the patient's throat or windpipe (finger-swipe, if necessary).
Make sure the patient is on a solid surface (on the backside). Next, kneel next to the patient's neck and shoulders. Open the patient's airway by tilting the head back with the palm of one hand while gently lifting the chin with your other hand. For no more than 10 seconds, check for life: listen for any sounds, put your cheek next to the patient's mouth to feel any breaths while also looking for any motion. Rescuers can check steps simultaneously. If the patient is assumed lifeless begin Mouth-to-Mouth procedure.
Perform Chest Compressions on patient's who are obese or pregnant.
B is for Breathing. Mouth-to-Mouth
Rescue Breathing - perform mouth-to-mouth; however, it can also be performed mouth-to-nose, mouth-to-mask, and mouth-to-stoma, but in rare cases.
Breathing tasks: While still performing the Airway technique pinch the patient's nose shut. With a complete seal over the patient's mouth, with your mouth, breathe into the patient until you see the chest inflate. If the chest does not rise, repeat the Airway technique. When performing the breathing technique make sure to give two breaths for 1 second each.
Once the breathing technique is applied, you will continue the C-A-B's.
CPR for Infants (Age Less Than 1 Year, Excluding Newborns)
• Witnessed Collapse: call 911 or have someone call
• Un-Witnessed Collapse: perform CPR (for 2 minutes), call 911 or have someone call
• Chest compressions - 100-120/min
• Perform CPR - Circulate, Airway, Breathing (C-A-B's)
• Compressions at about 1½ inches (4 cm) - 1/3 AP diameter of chest
• 30:2 compressions over breaths (seal infant's mouth and nose) - 2 Rescuers 15:2
• 2 Rescuers: 2 thumbs compression
• Use AED as soon as it's available

CPR for Children (Age 1 Year to Puberty)
• Witnessed Collapse: call 911 or have someone call
• Un-Witnessed Collapse: perform CPR (for 2 minutes), call 911 or have someone call
• Chest compressions - 100-120/min
• Perform CPR - Circulate, Airway, Breathing (C-A-B's)
• Compressions at about 2 inches (5 cm) - 1/3 AP diameter of chest
• 30:2 compressions over breaths - 2 Rescuers 15:2
• 2 Rescuers: Perform tasks simultaneously
• Use AED as soon as it's available

CPR for Adults & Adolescents
• Check for life
• Before performing CPR call 911 or have someone else call
• Chest compressions - 100-120/min
• 2 Rescuers: Perform tasks simultaneously
• Perform CPR – Circulate, Airway, Breathing (C-A-B's)
• Compressions at about 2 inches (5 cm)
• 1 or 2 rescuers - 30:2 compressions over breaths
• Use AED as soon as it's available

When to stop CPR
• When you're too exhausted to continue
• Broken ribs, lung collapses, etc.
• If an Automated External Defibrillator (AED) is accessible
• If Emergency Medical Services (EMS) arrives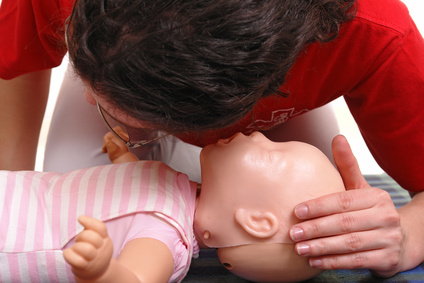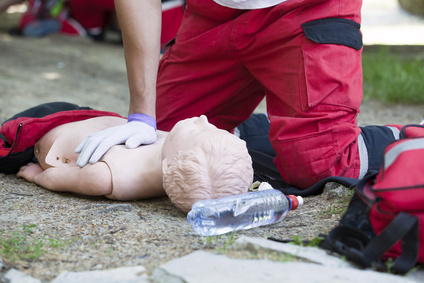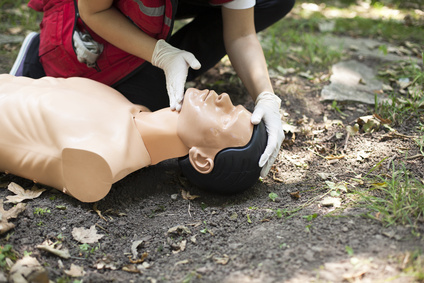 Example Clips Below